Throat Metal Detector
For detecting and separating metal impurities from power/granule products.(0-800kHz variable frequency)
Product Introduction
Essential Information
Quality: This machine adopts German technology. The main control board is imported from Germany so as to provide high accuracy
high sensitivity and high stability.
Application: In-line detects materials (powder granular diamond-shaped materials etc.) for magnetic and non-magnetic metal impurities;
quickly give signal to downstream device to eliminate from the production line without interfering production process.
Site: This machine is suitable for high hygiene standards environment such as pharmaceutical food and chemical industries. It can be
installed on the continuous conveyor line at container discharging lifting and discharging pipe discharging or manual feeding.





Product Advantages/ Performance Characteristics
Design: Steady stainless steel detect head is easy installation. The detect head is one time pouring and fixed.
Structure: Special structure can effectively avoid the interference of vibration noise and product effect. It is compact structure and
can be easily installed.
Appearance: Surface treatment can choose mirror polish drawing or sanding. The parts in contact with product are made of 304
stainless steel. Non-metal product channel is made of food grade materials.
Cleaning: The control case is separated from the testing unit for easy cleaning. The product channel and the rejecter can be
cleaned directly with water.
System: It has the functions of product learning and effect restraint which can be used to detect different kinds of products.
With 200 storages of different products the machine can change its product parameters in no time. It also has storage
functions of 1500 incidents (delete memory) built-in cull clock multi-program memory log in user level management
control and power failure protection.
Safety: In case of fault machine gives alarm immediately. After setting time running metal detector system gives alarm to require
a performance test by metal testing balls to confirm the functionality of the machine.
Operation: The machine can be operated in English/Chinese language through intuitive access multi-program memory.
Accuracy: The detection precision can be adjusted and 100% of the material can be detected during operation.
Levels: Protection Degrees: IP65 which can meet the requirements of HACCP certification.The machine can conform to the
requirements of the GMP and CE.
Power: The whole machine power consumption is 0.035kw/H which is entirely energy saving.
Documentation: All the material certifications as well as IQ OQ PQSOP and FAT are supplied with.
Special Description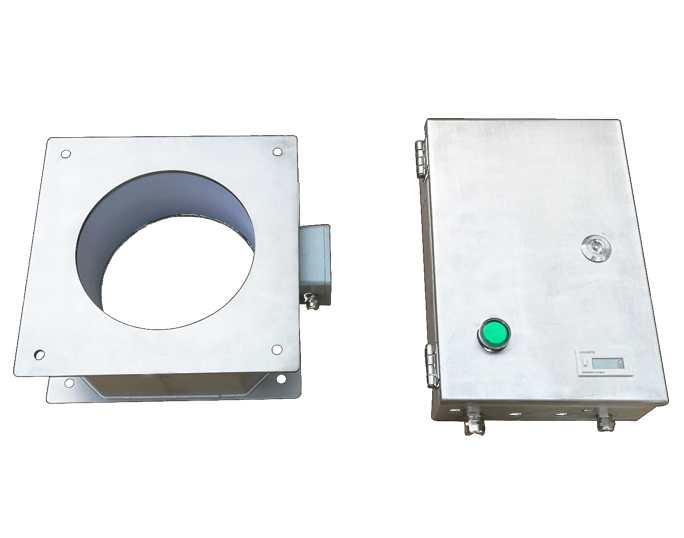 Technical Parameter
Mode
Passage Size
(mm)
Sensitivity(mm)
Dimensions
(mm)
Max Throughput(L/H)
Fe
SUS
No Fe
RP50
50
0.2
0.4
0.25
/
2000
RP80
80
0.35
0.55
0.42
/
8000
RP100
102
0.40
0.6
0.43
/
12000
RP120
116
0.50
0.7
0.54
/
16000
RP150
154
0.60
0.85
0.61
/
25000
RP200
194
0.73
1.05
0.75
/
44000
Remarks: maximum Stainless Steel detect precision is 0.3mm
Quality Assurance
Accept: We accept challenge testing.
Improve: Always improve the quality of products.
Optimization: Optimize production process and improve efficiency.
Benefits: Leave the unqualified products in your workshop avoid complaints and improve your corporate image.
Purchase: Economic
Lead time: 5 days
Warranty: 12 months.
Additional warranty: Added to 5 years warranty with extra 10% cost.
After-sale: For domestic customers we promise to resolve any issues within 48 hours and change parts within warranty.
And for overseas customers we promise to send out parts within 12 hours.
Technical Support
For more information, please call Sales Engineer: Jinhai Yang 0532-87067772 13606300100
Download File
Please contact the sales engineer: Jinhai Yang 0532-87067772 13606300100 to get the download password. If you have obtained the download password, please click "Download File" below to download.
Download File