Pharmaceutical Metal Detector
For detecting magnetic and non-magnetic metal impurities which are enclosed in the product.(0-800kHz variable frequency)
Product Introduction
Essential Information
Quality: This machine adopts German technology. The main control board is imported from Germany so as to provide
high accuracy high sensitivity and high stability.
Application: Especially to use with tablet press machine and capsule filling machines to detect magnetic and non-magnetic
metal impurities and quickly reject from the production line without interfering the normal production process.
And reduce material loss.
Site: This machine can use with any model tablet press machine & capsule filling machine or use as independent unit.
Frequency: 0-800kHz high detecting frequency


Product Advantages/ Performance Characteristics
Design: Open and modular design; four units combined extremely easy for maintenance.
Height: The machine height slew angle and incline angle can be adjusted to meet requirements. The machine unit is movable.
Appearance: It is made of stainless steel 304 fully mirror polished. Product contact part is SS304 (SS316L is optional). The reject
unit and non metallic parts are all made of food grade material meet FDA requirements.
Cleaning: This machine is modular design extremely easy for cleaning.
System: It has the functions of product learning and effect restraint which can be used to detect different kinds of products.
With 200 storages of different products the machine can change its product parameters in no time. It also has storage
functions of 1500 incidents (delete memory) built-in cull clock multi-program memory log in user level management
control and power failure protection.
Safety: In case of fault machine gives alarm immediately. After setting time running metal detector system gives alarm
to require a performance test by metal testing balls to confirm the functionality of the machine.
Operation: The machine can be operated in English/Chinese language through intuitive access multi-program memory.
Accuracy: The detection precision can be adjusted and 100% of the material can be detected during operation.
Rejecting: The electromagnetic is imported flap rejects the metal impurities automatically.
Size: Opening size can be customized to suit any model of tablet press machine and capsule filling machine.
Scheme: The machine is compliment to the requirements of the GMP and CE. Meet 21 CFR part 11 certification requirements.
Levels: Protection Degrees: IP65 which can meet the requirements of HACCP certification.
Power: The whole machine power consumption is 0.035kw/H which is entirely energy saving. Power supply 220V with earthing.
Documentation: All the material certifications as well as IQ OQ PQ SOP and FAT are supplied with.


Special Description
1)Detect coil is made of stainless steel and wholly sealed inside. One time pouring and fixed.
2)Totally independent sensor system. Tool free dismantling easy maintenance and cleaning.
3)Independent control system connect to sensor system by modular air plugs.
4)Independent reject unit by quick connection. No need air supply.
5)Modular structure: system control box detect head reject unit machine fr
ame are separated design easy cleaning and maintenance.
6)Open design tool free product contact parts dismantling within 10 seconds. No dead angle easy for cleaning and water wash.
7)metal detector whole body safe structure no dead angle. Power supply is safe 24V voltage.
8)Adjusting metal detector height and angle by only one operator.

Working Principle: When metal impurities go through the metal detector head the detect coil balance was interfered. At this moment metal
detect signal is amplified and sent to detect signal. System rejects material immediately.

Working Process: Material ① falls and goes through inclined detect coil ② metal impurities is detected and separation flap ③ is actuated
immediately. Material with metal impurities ④ is rejected from rejection tunnel ⑤.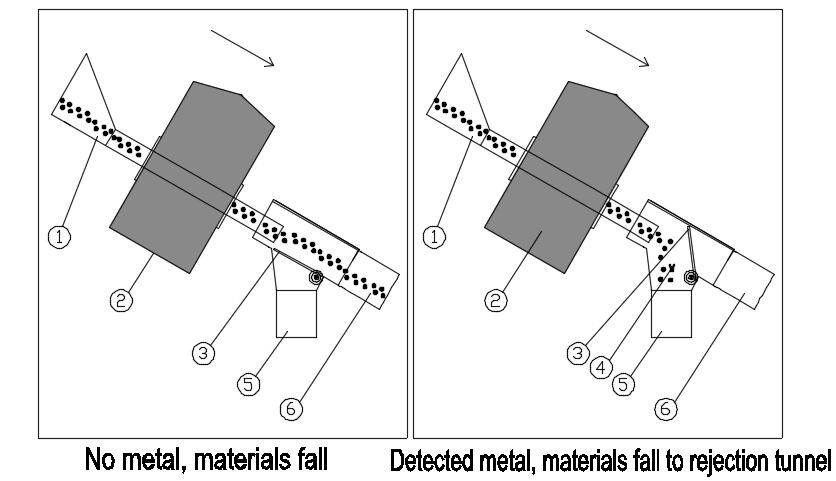 Technical Parameter
Model
Sensitivity
Max Throughput
PCS/H
Fe(mm)
SUS(mm)
NoFe(mm)
T68/18
0.2
0.4
0.25
460000
T60/30
0.2
0.4
0.3
600000
Remarks: maximum Stainless Steel detect precision is 0.3mm
1)Comply with national standards suitable for long time production application with stable performance.
2)Most advanced micro process control system with self learning function.
3)The system is suit for industrial environment with vibration hitting and static interference for detecting materials with water or me
tallic
element.
4)Process parameter requirements: sensitivity is adjustable reject time is adjustable within 0.05-60 seconds inclined fall standard
metal rejection rate is 100%.
5)Main control parts are imported. Control menu is simple operation with one-button operation mode with Chinese/English operation menu.
6)Provide with metal samples for testing.
Quality Assurance
Accept: We accept challenge testing.
Improve: Always improve the quality of products.
Optimization: Optimize production process and improve efficiency.
Benefits: Leave the unqualified products in your workshop avoid complaints and improve your corporate image.
Purchase: Economic
Lead time: 5 days
Warranty: 12 months.
Additional warranty: Added to 5 years warranty with extra 10% cost.
After-sale: For domestic customers we promise to resolve any issues within 48 hours and change parts within warranty. And for
overseas customers we promise to send out parts within 12 hours.

Technical Support
For more information, please call Sales Engineer: Jinhai Yang 0532-87067772 13606300100
Download File
Please contact the sales engineer: Jinhai Yang 0532-87067772 13606300100 to get the download password. If you have obtained the download password, please click "Download File" below to download.
Download File